Updated August 25, 2023
A "Casual Reception" will be held for the FVHS Classes of '74 and '75 at the Crown Plaza Hotel in Costa Mesa on Sunday, August 27 (11:00 AM - 2:00 PM). Come and visit with the team planning the '74 50 year reunion. No speeches, just a chance to visit. Come early, come late, stay as long as it fits your schedule.
This event is "no charge". You may sign up using this link: Click Here. You can see who has signed up: Click Here. Yes, we have classmates from the Central and Eastern Time Zones who are flying in this weekend and will be at this reception! You do not have to sign up to attend, but it helps.
If you are not registered with the website, please find your name on "Missing Classmates" and register. If your name is not shown on the "Missing Classmates" list please send a message using "Contact Us". Members of the Class of '75 will be registered as guests.
Looking forward to seeing many people from our class, and others, THIS weekend!
Updated August 8, 2023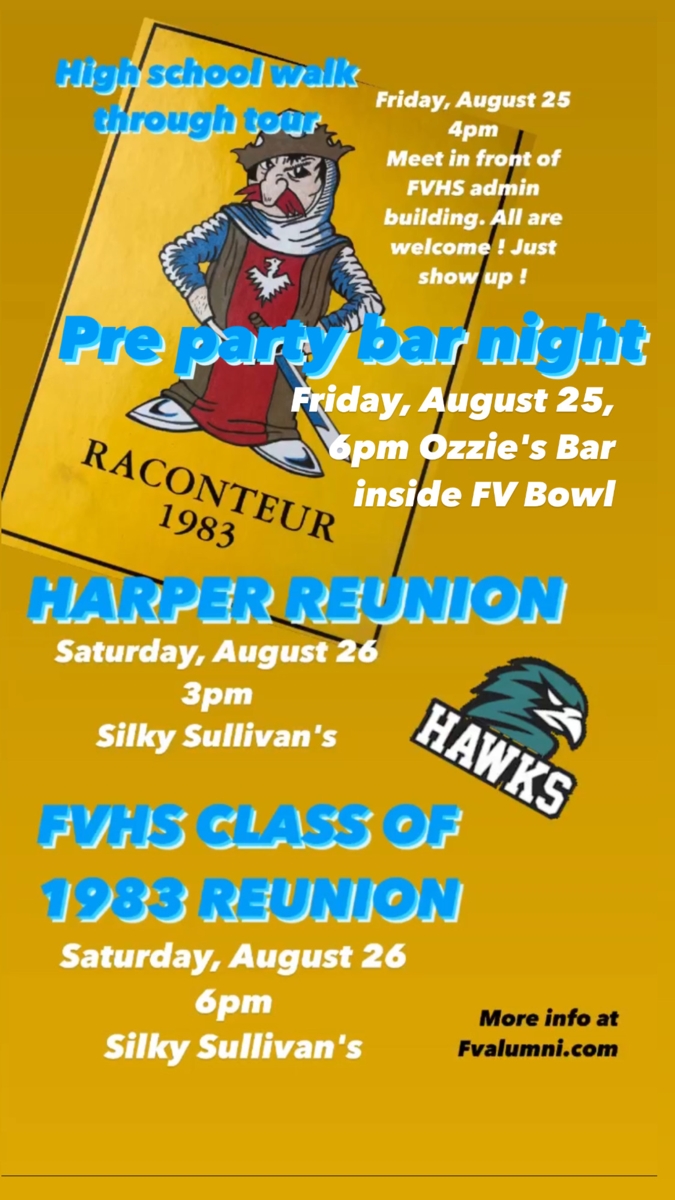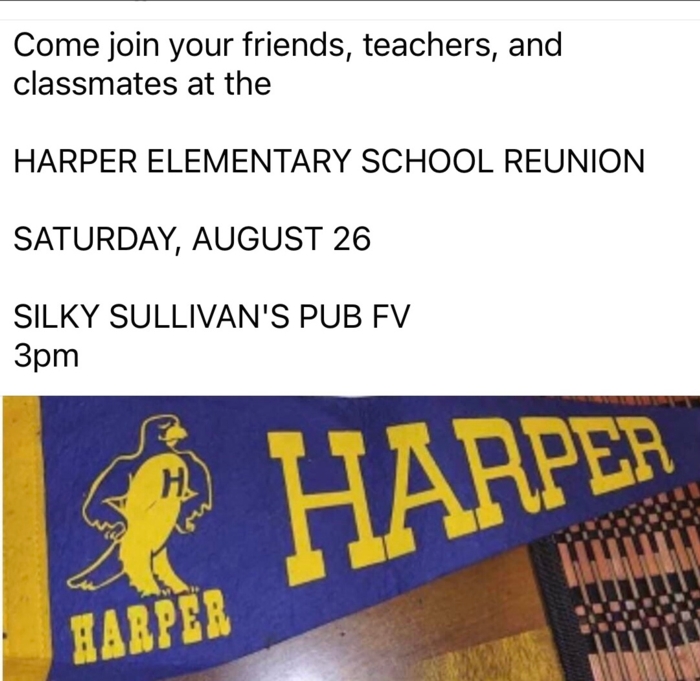 Link to Facebook page "Harper All Class Annual Reunion"
Dear Friends and Classmates,
The Harper Elementary Annual Reunion will be August 26, 2023 at 3:00 PM at Silky Sullivan's on Slater near Brookhurst.
The FVHS Class of 1983 is planning to arrive at Silky's at 6:00 PM for their 40 year reunion!
Please come join Karen Quo and your schoolmates at this new location and plan to stay to mingle with a lot of friendly faces through the night. If you have any questions please contact Karen, I know she'd love to hear from you. Hope to see you there!
Karen Quo 714-284-3495
~~~~~~~~~~~~~~~~~~~~~~~~~~~~~~~~~~~~~~~~~~~~~~~~~~~~~~~
Please upload photos of people from our class who attended the class of '73 reunion: 49 year reunion (There may be a delay after you upload photos before you see them posted).
The FVHS Class of 1973 will be celebrating their 50 year reunion August 5, 2023 and you are invited! Interested?
Below are some messages from the organizers of their reunion, Doug Wolford and Rick Whitcomb.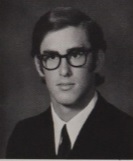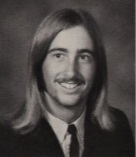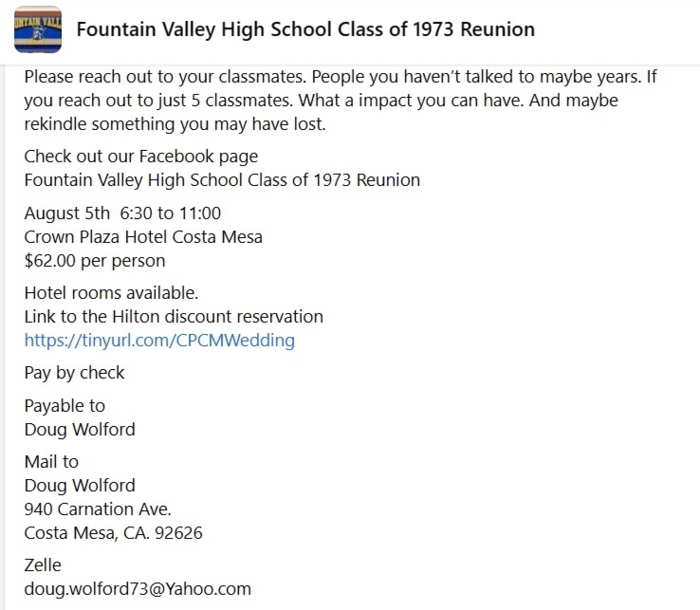 List of those planning to attend this reunion (as of July 1)
John Adams, Susan Andrews, Cher Borrelli, Thomas Borrelli, Jenny Breault Gilchrist, Robyn Brodel Dennen, Doug Cavanaugh, Lessie Cavanaugh, Sue Cosky Rader, Brando Dijanovic, Rick Dommert, Terry Dommert, Bruce Dubois, Diana Erickson, Michael Erickson, Steve Fitzgerald, Valori Jackson Fox, Stephen Fox, Randy Harold, Joe Hawley, Craig Johnson, Eric Johnson, Nia Johnson, Donald Jordan, Margaret Jordan, Kay Krutsinger, Teresa Krutsinger, Martha Halvorson, Gerald Hirshman, Tina Chow Kosbab, Barbara Laughbaum, Jeff LeBeau, Gary Longstein, Mike McCarthy, Cyndi Peterson, Fred Peterson, Paul Puiasky, Eric Ramos, Judy Ramos, Joe Rea, Carol Rhodes Rice, James Rice, Linda Sandars, Russ Sandars, Sam Sepulveda, Jeffrey Simon, Lorre Sobrito, Clay Stuard, Lisa Stuard, Rick Whitcomb, Stephanie Whitcomb, Norman Winchester, Doug Wolford, Lori Wolford, Linda Worch Reichert, James Reichert, Brenda Young, Kye Young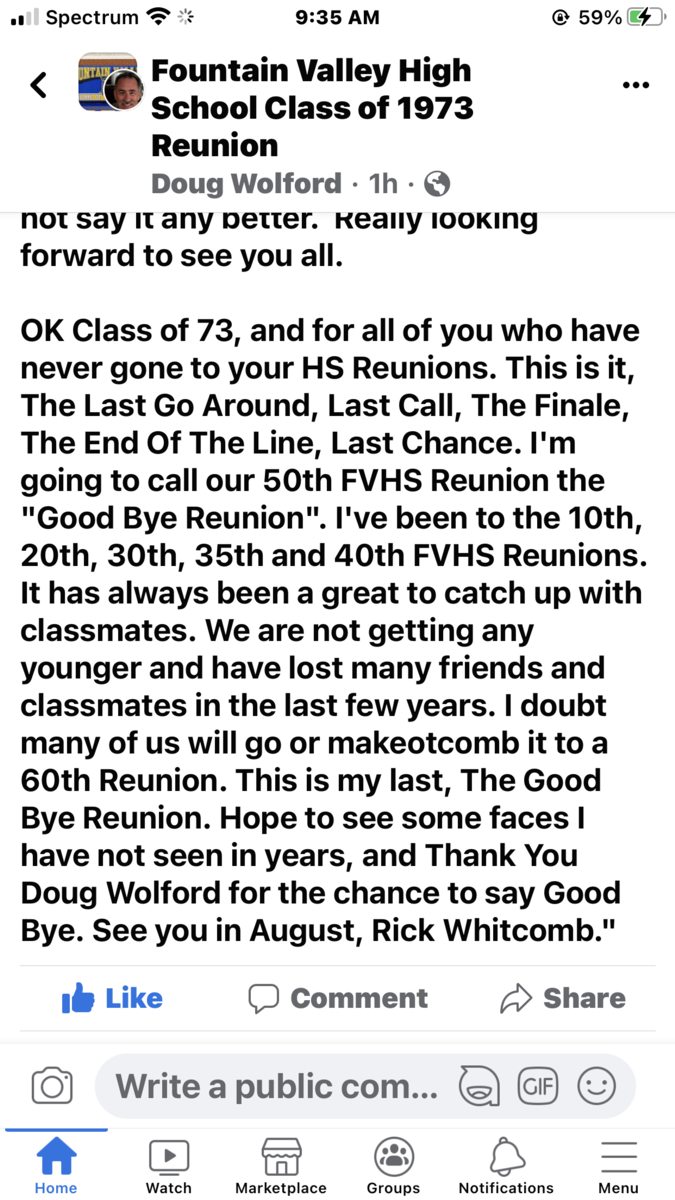 Updated May 27, 2023
Get ready! We are in the early stages of planning our 50 year reunion. There are a lot of questions to be answered and a lot of moving parts.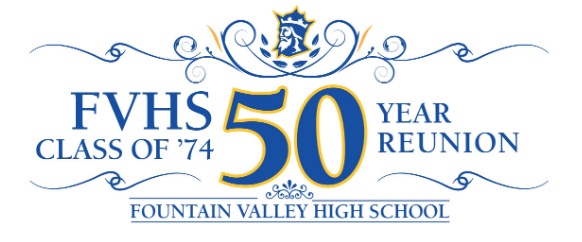 Our 45 year reunion was viewed as a "dry-run" for our 50th.

Take a look at the photo gallery for the 45th to see how much fun it was: 45 Year Reunion.
There are also photos from the 40 year and earlier reunions in the "Previous Reunions" photo galleries!
This is a 3 minute video that might help to get your interest:
Class Reunion Party | Class Reunion Party Ideas and PlanningClass
Watch this space for updates! We don't know when or where, but are open to suggestions. Traditionally the 50 year reunions are held homecoming weekend, the first weekend of October near our school. Our goal is to have a decision on the date and place by one year before the big event...
In the meantime, please help us locate classmates on "Missing Classmates". A call from a friend that lets them know about www.fountainvalley74.com is the best way you can help!
Go '74 Barons!
Updated July 13, 2022
Class of '74 mini-reunion, July 30, 2022 at Silky Sullivan's in Fountain Valley. Kathi Pulchalski Rocheleau is coordinating this informal get-together. Send her a private message if you have questions. These reunions at Silky's are always great fun! Take lots of pictures!
Here are pictures from our 2018 mini-reunion at Silky's:
https://www.fountainvalley74.com/class_gallery.cfm?gallery_id=59660&community=y
Updated July 7, 2022
The Class of '72 50 year reunion announced below will accept ticket orders until July 10.:
There is a list of those planning to attend posted on What's New.
"...It's always best to Venmo, than at least its guaranteed. Here is the contact for Venmo: Debbie-Muenier make sure you tell them to put the year they graduated, as we are all wearing name tags with our pictures."
Representatives from our class of '74 will be attending! Please plan to attend if you are able. -Michael Lucia
Updated May 4, 2022
The FVHS class of 1972 is having their 50 year reunion on July 30th this year. We are invited!!
Please contact Vickie Vollert Billings for information at vickieGB@Cox.net. Earlier this week I spoke with Vickie and they are very hopeful Barons from other classes will come to help them celebrate at their reunion! -Michael Lucia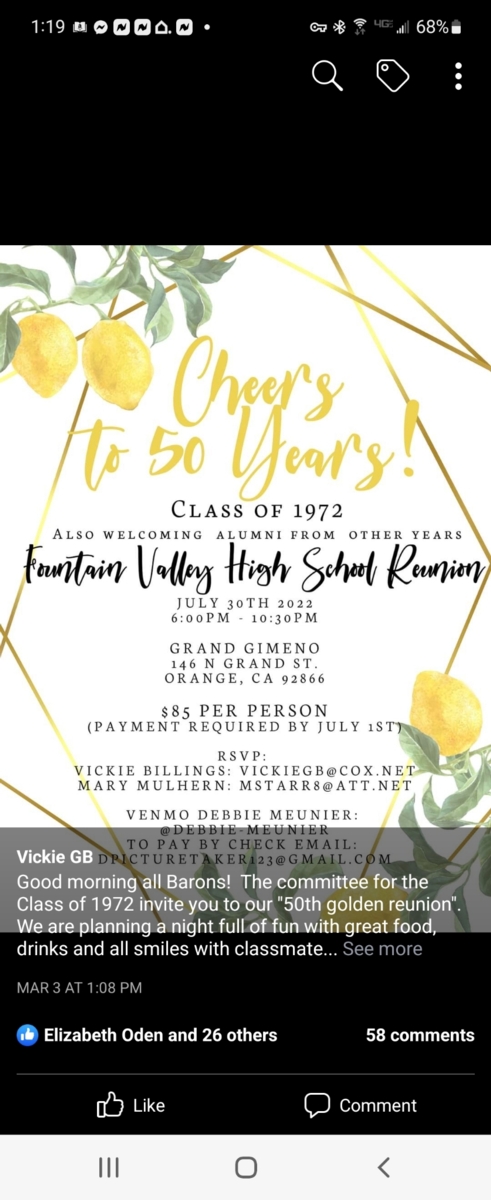 Updated August 23, 2021
Mini-Reunion this Saturday, August 28, in Carlsbad, CA! Limited capacity requires that you contact Scott Napp for reservations. Use this link to let him know of your interest:
Private Message through www.fountainvalley74.com ... Or go to the "message center" by clicking on the envelope icon. Enter "Scott Napp" in the message form and let him know of your interest and questions about the location, time, and other arrangements.
Rumor has it that Lucky Jonker, Bill Ogden, and Larry Parish, plus of course, Teresa and Scott will be there. Also Wendy Coleman and others are tentatively planning on being there. If you see Bill Ogden, remind him that his name is shown on "Missing Classmates"!
You can always use the "Contact Us" button for any questions, suggestions, or concerns about things on www.fountainvalley74.com. Also check "Questions & Answers" for the answers to many questions you might have.
~~~~~~~~~~~~~~~~~~~~~~~~~~~~~~~~~~~~~~~~~~~~~~~~~~~~~~~~~~~~~~~~~
Our first "mini reunion" for 2021 is scheduled for March 17, St. Patrick's Day, in Wickenburg, Arizona! Scott O'Napp and Michael O'Lucia will be at the Flying E Guest Ranch along with whoever can make it on short notice. It is all about connecting with those "who knew you when you were young"...
This will be a "self-organized" reunion. If you are available and interested call Meghan at the Flying E for reservations (+1 (928) 684-2690) . The trail rides are full, or close to full, but there are plenty of other fun things to do! You make separate reservations for meals and rooms. This is a "boarding house" type of establishment, so reservations are required for meals. Meals are "family style", i.e. no menu, whatever is being served is what is available for any given meal.
The Wickenburg airport (E25) is very close. There is no scheduled service and minimal services (fuel- Avgas and Jet A, restrooms, that's about it!). Phoenix Sky Harbor Airport (KPHX) is about a 2 hour drive from Wickenburg.
Yes, this is short notice and people have to work, take care of pets, parents and kids. Accommodations are limited. Hope to see as many FVHS '74 classmates as possible!
Those of us who came to FVHS from elementary schools in the Fountain Valley School District came through at an amazing time. Today, only Cox, Fulton, Newland, and Tamura schools remain. Fountain Valley elementary, Harper, McDowell, and Nieblas are gone. St. Francis Assisi also gone, although the buildings are now occupied by the St. Simon and Jude school. Similarly in Huntington Beach: Star View, Vista View, and Westmont remain (also Dwyer); Crest View, Park View, and Rancho View are gone. Warner Jr. High in Westminster continues as a "middle school." If your school is gone, all the more reason to keep the memories alive through 50 year reunions of the classes of 1970!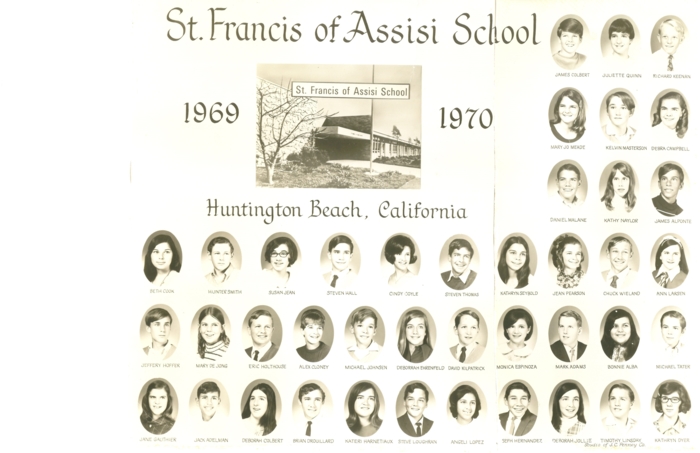 Short article on 2018 annual Harper Reunion. It might be logical to plan the 50 year reunion of the Harper Class of 1970 the same weekend as the 2020 annual reunion...
Harper Class of '70
Park View Class of '70
---
Music, newscasts, and articles are now being posted to "What's New".
Once you log-in, check the envelope icon (look up and right) to see how many private message you have waiting to be viewed. No messages? Remember the old adage, "to get a letter, send a letter".
Thank you to all who attended and worked to put together our 45 year reunion weekend! It was FUN!
Debbie, Rick, Linda, and Mike hard at work planning the 45 year reunion. This was a test run of the "Silent DJ" at Newport Dunes.
There is a new photo gallery up where you can see and post your photos from the reunion. Click here: 45 Year Reunion Photo Gallery Log in to post or see photos. If you have photos on your phone and prefer to have the reunion team post them for you, send them by email to 45threunion@fountainvalley74.com.
Please reach out to classmates and let them know about our reunion and this website!
There are a couple of stated objectives for having a 45 year reunion beyond the party. Take a look at "Questions and Answers." The first is to develop our contact list for the 50th reunion. The second is to collect contact information for any of the junior high and elementary school classes that "fed" into our FVHS class. Next year those classes can plan their own 50 year reunions: 1970 - 2020.