ANNOUNCEMENTS
Our "Virtual Reunion" is building! Classmates who were not able to attend the 45 year reunion in Newport Beach are registering on the site and adding information to their profiles. We can all join in by going to our own profiles by clicking on "Classmate Profiles" and using the "Edit Profile" link. This will get you back into the area where you can share what you've been up to just like you were conversing at our "in-person" reunions. Additional questions were suggested by some of those joining recently and are now there for you to answer! Questions? Hit the "Contact Us" button and send an email.
For more photos from the 45 Year Reunion and others, look left and up and click on "Previous Reunions".
Add your photos!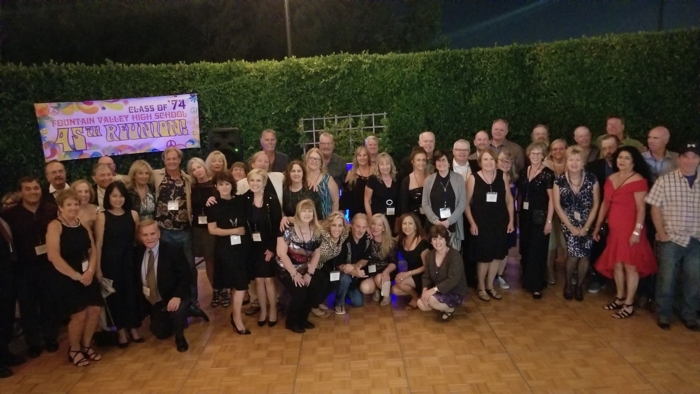 Classmates traveled for our reunion from:
Arizona
California (from the farthest reaches!)
Florida
Hawaii
Idaho
Illinois
Maryland
Massachusetts
Utah
Washington
Toujours Avec Fierte,
Mike Lucia
Classmates,
In order to ensure you receive important messages from our class web site, as well as messages sent directly to you from other Classmates, it's important you whitelist the email address noreply@classcreator.net (that's a .net, not a .com).
What is whitelisting? Whitelisting simply means you are telling your email program to accept all emails coming from our class web site and our Classmates. The technique for whitelisting varies by email program, but generally you will see the term "Whitelist", "Safe List", or "Safe Sender's List". This is where you want to be sure you have added the email address noreply@classcreator.net.
Class Creator, the system that helps us operate our class web site, uses the address noreply@classcreator.net when sending out email messages. Be assured that all emails sent through our site are valid — you will not receive spam email. Whitelisting noreply@classcreator.net is the single most important thing you can do to ensure you don't miss anything happening on our site or miss receiving your emails from your fellow Classmates.
Stop and take a moment to whitelist noreply@classcreator.net right now, and ensure you stay connected!
Sincerely,
Mike Lucia
FVHS '74