Updated November 1, 2020
Two "mini reunions" (two people in these first two) have been photographed and posted to their elementary school photo galleries: Park View and St. Francis Assisi. Take a look! If there is interest and leadership for more, and perhaps larger, reunions, that will be great! It is all about connecting with those "who knew you when you were young"...
Those of us who came to FVHS from elementary schools in the Fountain Valley School District came through at an amazing time. Today, only Cox, Fulton, Newland, and Tamura schools remain. Fountain Valley elementary, Harper, McDowell, and Nieblas are gone. St. Francis Assisi also gone, although the buildings are now occupied by the St. Simon and Jude school. Similarly in Huntington Beach: Star View, Vista View, and Westmont remain (also Dwyer); Crest View, Park View, and Rancho View are gone. Warner Jr. High in Westminster continues as a "middle school." If your school is gone, all the more reason to keep the memories alive through 50 year reunions of the classes of 1970!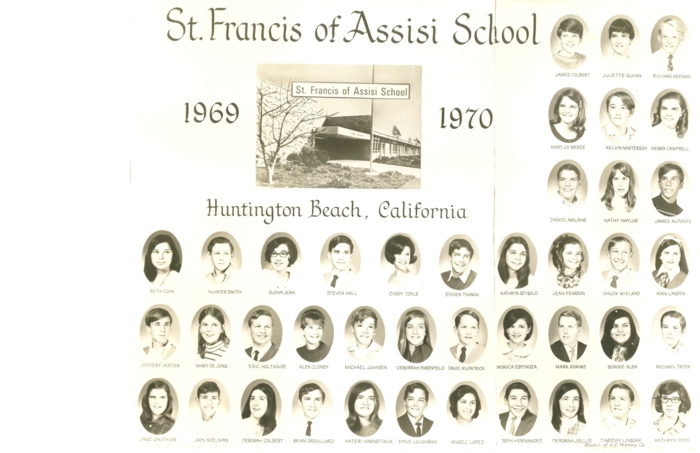 Short article on 2018 annual Harper Reunion. It might be logical to plan the 50 year reunion of the Harper Class of 1970 the same weekend as the 2020 annual reunion...
Harper Class of '70
Park View Class of '70
---
Music, newscasts, and articles are now being posted to "What's New".
Once you log-in, check the envelope icon (look up and right) to see how many private message you have waiting to be viewed. No messages? Remember the old adage, "to get a letter, send a letter".
Thank you to all who attended and worked to put together our 45 year reunion weekend! It was FUN!
There is a new photo gallery up where you can see and post your photos from the reunion. Click here: 45 Year Reunion Photo Gallery Log in to post or see photos. If you have photos on your phone and prefer to have the reunion team post them for you, send them by email to 45threunion@fountainvalley74.com.
Please reach out to classmates and let them know about our reunion and this website!
There are a couple of stated objectives for having a 45 year reunion beyond the party. Take a look at "Questions and Answers." The first is to develop our contact list for the 50th reunion. The second is to collect contact information for any of the junior high and elementary school classes that "fed" into our FVHS class. Next year those classes can plan their own 50 year reunions: 1970 - 2020.